It seems we can't find what you're looking for. Perhaps searching can help.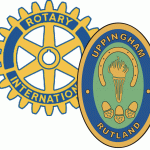 The Rotary Club of Uppingham has published further details of its 2020 President's Night event which this year is to take the form of a charity dinner on Zoom. Tickets are limited to 100 in number with the event being held on Saturday June 13th commencing at 7pm. The guest list includes The Lord Lieutenant …
Acting at the request of the Uppingham Community Emergency Plan lead coordinators, Uppingham Neighbourhood Forum is to publish a special Covid 19 Edition of its quarterly newsletter and deliver it to every household in Uppingham. The move is in response to concerns that authorities are publishing a great deal of advice and information online, but …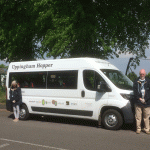 Although on duty delivering medicines and groceries, Uppingham Hopper duty team David Ainslie and Alison Bromwich took time on VE Day to mark the occasion and remember the fallen. The pair are pictured with the Hopper, socially distanced, at Tod's Piece while observing the national 11am two minute silence on Friday May 8th 2020.