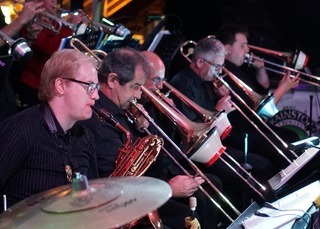 Date
Jul 01 2019
Expired!
Time
8:00 pm - 10:30 pm
Cost
£12
Rotary Hosts Big Band Event in Support of the Uppingham Hopper
The Rotary Club of Uppingham and the Rutland Big Band have announced a major musical collaboration in support of the Uppingham Hopper.
On Monday July 1st in the Garden Terrace of The Falcon Hotel, Uppingham, the Rutland Big Band will provide an evening of entertainment big band style featuring many of the nation's favourite dance and swing pieces. Get a taste of the big band sound at www.rutlandbigband.org.uk
A Big Band traditionally has saxophones (baritone, tenors & altos), trumpets, trombones, a rhythm section (drums, bass, keyboard, guitar), and often a singer or two. Sometimes there are clarinet or flute parts, usually played by one of the saxophonists. This helps make the famous Glen Miller type of sound.   Naturally there's 1940s swing era music such as Glen Miller but also a glorious mix of music by Stevie Wonder, Van Morrison, Duke Ellington and of course tracks made famous by the Rat Pack.
It don't mean a thing if it ain't got swing. So enjoy the rhythms, clap your hands and tap those feet at the Uppingham Rotary Rutland Big Band evening.
A ticketed event in support of the Uppingham Hopper – Bookings to mjs@clara.co.uk or Tel: 01572 823465. Tickets £12, to include a glass of Prosecco.